3/17/18 Live & Online Tools, Equipment & Painting Auction (592)
All items closed
This is a Live & Online Auction! This is the liquidation of a commercial painting and roofing company. Loaded with New Surplus Paint & Supplies, Kubota MX5100 Backhoe and Grapple & Field Mower also available, 2008 Chevy Silverado K3500HD Diesel Box Truck, Triple Axle Heavy Duty Flatbed Equipment Trailer, 1970's Ford Line Truck, 1996 Ford Club Wagon Van, Polaris 4x4 Quad, 12' Flatbed Trailer, Construction equipment, Roofing Supplies, Hand Tools (Craftsman Roll-Away Tool Chest Loaded & Others), Pallet Racks, Power Tools, Recreational, Lumber, Commercial Paint Sprayers & Supplies, Heavy Duty Pressure Washers, Troy-Bilt Log Splitter/Tiller, Power Trowel, Elec. Power Pallet Jack and More!!! 
« Back to list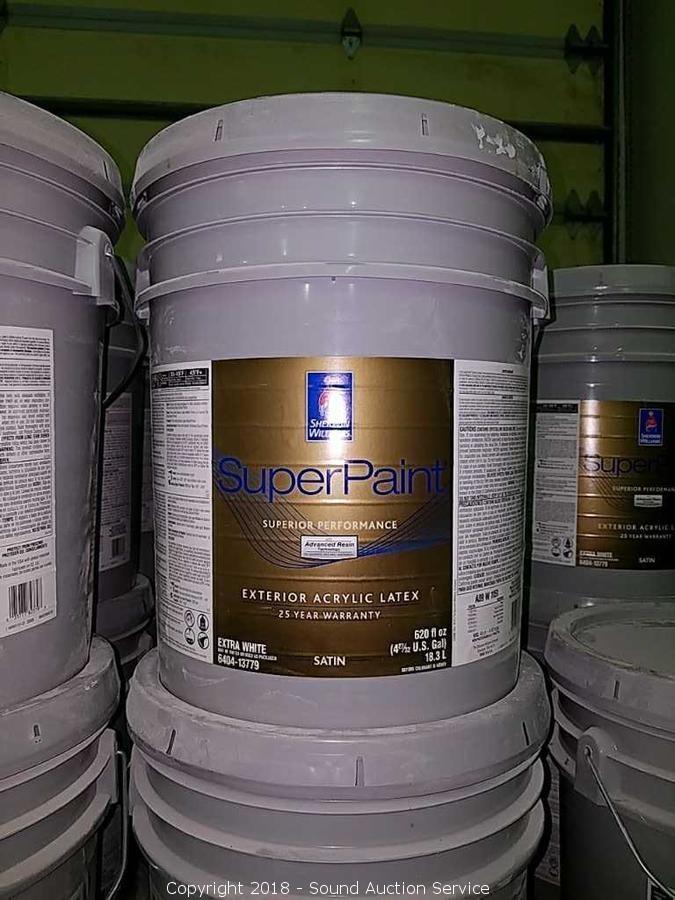 Lot #0072:
(5) 5 gal Exterior Acrylic Latex Extra White Paint
Bidding is

closed

.
High Bid:
$325.00
NA
Live Bidding Started:
Sat, Mar 17 9:45:00 am PT
High Bidder:
omgseph
Bid Increment:
$25.00
Starting Bid:
$5.00
Item Location:

7615 Spurgeon Creek Road SE

,

Olympia

,

WA

98513

Item has been viewed 160 times.

New, sealed buckets. Sherwin Williams Super Paint #6404-13779, may be tinted or used as packaged.
| | | |
| --- | --- | --- |
| Bid Date | Bid Amount | Bidder |
| Mar 17, 2018 - 11:01:41 AM | $325.00 | iCrowd Bidder |
| Mar 17, 2018 - 11:01:38 AM | $300.00 | iCrowd Bidder |
| Mar 17, 2018 - 11:01:35 AM | $250.00 | iCrowd Bidder |
| Mar 17, 2018 - 11:01:33 AM | $225.00 | iCrowd Bidder |
| Mar 17, 2018 - 11:01:31 AM | $175.00 | iJimmiethetoyman |
| Mar 17, 2018 - 11:01:28 AM | $150.00 | iCrowd Bidder |
| Mar 15, 2018 - 8:46:05 AM | $110.00 | iRockstar |
| Mar 15, 2018 - 8:46:01 AM | $100.00 | iMemphis |
| Mar 15, 2018 - 8:46:01 AM | $90.00 | iRockstar |
| Mar 15, 2018 - 8:45:57 AM | $80.00 | iMemphis |
| Mar 15, 2018 - 8:45:57 AM | $70.00 | iRockstar |
| Mar 14, 2018 - 10:43:03 PM | $60.00 | iMemphis |
| Mar 14, 2018 - 6:54:15 PM | $50.00 | iRockstar |
| Mar 14, 2018 - 6:54:16 PM | $50.00 | i19661947llL |
| Mar 14, 2018 - 6:54:13 PM | $45.00 | iRockstar |
| Mar 14, 2018 - 6:54:13 PM | $40.00 | i19661947llL |
| Mar 14, 2018 - 6:54:11 PM | $35.00 | iRockstar |
| Mar 14, 2018 - 6:54:11 PM | $30.00 | i19661947llL |
| Mar 14, 2018 - 6:54:10 PM | $25.00 | iRockstar |
| Mar 14, 2018 - 6:54:10 PM | $22.50 | i19661947llL |
| Mar 14, 2018 - 6:54:08 PM | $20.00 | iRockstar |
| Mar 14, 2018 - 6:54:08 PM | $17.50 | i19661947llL |
| Mar 14, 2018 - 6:54:06 PM | $15.00 | iRockstar |
| Mar 14, 2018 - 6:54:06 PM | $12.50 | i19661947llL |
| Mar 14, 2018 - 6:54:05 PM | $10.00 | iRockstar |
| Mar 14, 2018 - 6:54:05 PM | $9.00 | i19661947llL |
| Mar 14, 2018 - 11:26:54 AM | $8.00 | iRockstar |
| Mar 14, 2018 - 11:26:54 AM | $7.00 | iJimmiethetoyman |
| Mar 8, 2018 - 10:35:00 AM | $6.00 | iJimmiethetoyman |
| Mar 5, 2018 - 5:38:47 PM | $5.00 | iDshooter |